It seems a fairly common, straight forward question.  You've probably been asked it before. We all have reasons why we hack, why we code, why we write or draw. If you ask somebody this question, you'll hear things like "scratching an itch" or "making something beautiful" or "learning something new".  These are all excellent reasons for creating or improving something.  But contributing isn't just about creating, it's about giving that creation away. Usually giving it away for free, with no or very few strings attached.  When I ask "Why do you contribute to open source", I'm asking why you give it away.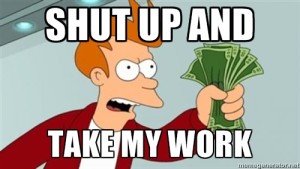 This question is harder to answer, and the answers are often far more complex than the ones given for why people simply create something. What makes it worthwhile to spend your time, effort, and often money working on something, and then turn around and give it away? People often have different intentions or goals in mind when the contribute, from benevolent giving to a community they care about to personal pride in knowing that something they did is being used in something important or by somebody important. But when you strip away the details of the situation, these all hinge on one thing: Recognition.
If you read books or articles about community, one consistent theme you will find in almost all of them is the importance of recognizing  the contributions that people make. In fact, if you look at a wide variety of successful communities, you would find that one common thing they all offer in exchange for contribution is recognition. It is the fuel that communities run on.  It's what connects the contributor to their goal, both selfish and selfless. In fact, with open source, the only way a contribution can actually stolen is by now allowing that recognition to happen.  Even the most permissive licenses require attribution, something that tells everybody who made it.
Now let's flip that question around:  Why do people contribute to your project? If their contribution hinges on recognition, are you prepared to give it?  I don't mean your intent, I'll assume that you want to recognize contributions, I mean do you have the processes and people in place to give it?
We've gotten very good about building tools to make contribution easier, faster, and more efficient, often by removing the human bottlenecks from the process.  But human recognition is still what matters most.  Silently merging someone's patch or branch, even if their name is in the commit log, isn't the same as thanking them for it yourself or posting about their contribution on social media. Letting them know you appreciate their work is important, letting other people know you appreciate it is even more important.
If you the owner or a leader in a project with a community, you need to be aware of how recognition is flowing out just as much as how contributions are flowing in. Too often communities are successful almost by accident, because the people in them are good at making sure contributions are recognized and that people know it simply because that's their nature. But it's just as possible for communities to fail because the personalities involved didn't have this natural tendency, not because of any lack of appreciation for the contributions, just a quirk of their personality. It doesn't have to be this way, if we are aware of the importance of recognition in a community we can be deliberate in our approaches to making sure it flows freely in exchange for contributions.